Quickie Q7 NextGen Manual Rigid Wheelchair
Sunrise Medical
(Model:
EIR4)
What's Included

Free Shipping
ShapeLoc Technology
Variety of Unique Colors

This is one of the lightest rigid chairs which uses 7000 Series aluminum & provides increased strength, allows for thinner tube walls, & decreases overall weight.
| Seat Width | Seat Depth | Weight Capacity | Chair Weight | Quick Release Axles | Warranty |
| --- | --- | --- | --- | --- | --- |
| 12" - 20" | 12" - 20" | 265 lbs. | 9.7 lbs. | Yes | 5 Year Limited |
Quickie Q7 NextGen Manual Rigid Wheelchair
The Quickie® Q7® wheelchair combines cutting edge ultra lightweight wheelchair technology, ergonomic design, and premium materials. Designed for superior handling, efficiency, and speed, the Q7 is the lightest wheelchair we've ever manufactured.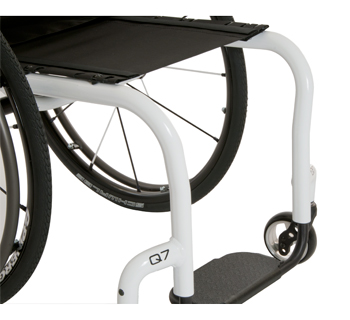 Top of the Line Materials and Technology
The genius behind the Q7's featherweight frame is 7000 series aerospace aluminum. ShapeLoc Technology - the process of heat treating 7000 Series aluminum - increases its strength, allows for thinner tube walls, and decreases overall weight. By combining ShapeLoc Technology with ovalized tubing, the Q7 wheelchair delivers an incredibly strong, rigid ride that weighs as little as 13.3 pounds with wheels and maximizes your speed and efficiency with every push.
(Q7-exclusive Glossy White frame color pictured left)
Balanced Perfection
The Q7's geometry is designed for precision and grace. With custom frame lengths and caster wheel placement options, the Q7 wheelchair properly distributes your weight over the rear wheels so you can be quick and nimble while maintaining stability.
Adjustable & Active Rigid Frame Styles
Whether you are a new user or have been a loyal Quickie fan for years, the Q7 wheelchair has an option for you. The Adjustable frame accommodates changing environments and conditions, and allows for quick back angle adjustments. The Active Rigid is ideal for those who know exactly what they need. A fully rigid frame wheelchair backrest reduces the overall weight by 1.25 lbs. and transfers energy directly from your arms to the axles for the most efficient propulsion.
(Quickie Q7 Active Rigid with Black Cherry frame pictured left)
Model Number
EIR4
Starting Retail Price
Adjustable: $2,625
Active Rigid: $2,925
Frame Style
Rigid
HCPCS Code
K0005
Wheelchair Weight
Adjustable:
Standard Configuration: 18.4 lbs.
Transport: 11.1 lbs.
Transport without Wheel Locks: 10 lbs.
Lightest Complete Configuration: 14.1 lbs.

Active Rigid:
Standard Configuration: 17.4 lbs.
Transport: 9.7 lbs.
Transport without Wheel Locks: 8.6 lbs.
Lightest Complete Configuration: 13.3 lbs.

Weights based on common size (16" x 16") and can vary based on wheelchair configuration and material tolerances. Weights subject to change without notice.
Frame Material
Aluminum
User Weight Capacity
265 lbs.
Transit Approved
Yes
Shipping Dimensions
31" L x 24" H x 24" W
Average Shipping Weight
50 lbs.
FRAME AND FEATURE MEASUREMENTS
Seat Widths
12" to 20"
Seat Depths
12" to 20"
Frame Angle
75°, 80°, 85°
Front Seat-to-Floor Height
16" to 21"
Rear Seat-to-Floor Height
13" to 20"
Lower Leg Length Setting
N/A
Back Height
8" to 20"
Angle Adjustable Backrest Adjustment Range
-27° to 8° (adjustable model only)
Camber
0°, 3°, 6°
Center of Gravity (COG) Adjustment
0" to 4"
Tilt Range
N/A
OPTIONS AND ACCESSORIES
Frame Type
Standard
Classic
Welded Standard (Active Rigid)
Welded Classic (Active Rigid)
Depth Adjustable Back
Special Packages
Performance:
Single Sided Fork
Ultra Lightweight Wheel
Schwalbe Marathon Plus Evolution
Compact Wheel Lock

Ultra Lite Package:
Ultra Lite Seat Sling
Ultra Lightweight Wheel
Schwalbe Speed Run Tire
Compact Wheel Lock
Tilt Release Options
N/A
Frame Inset
0", 1" or 2"
Caster Wheels
3" Micro
4" Low Profile Polyurethane
4" Micro Lighted
4" x 1" Aluminum Polyurethane
4" x 1.25" Semi Pneumatic
4" x 1.5" Aluminum Soft Roll
5" Low Profile Polyurethane
5" Micro lighted
5" x 1" Aluminum Polyurethane
5" x 1.5" Semi-Pneumatic
5" Soft Roll (Grey)
5" x 1.5" Aluminum Soft Roll
6" Polyurethane
6" Pneumatic
6" x 1.5" Semi Pneumatic
6" x 1.5" Aluminum Soft Roll
Caster Options
N/A
Hangers
N/A
Footplates
Aluminum Tubular
Aluminum Tubular w/ Snap-on Cover
Angle Adjustable Flip Back
Platform
Ultra Lite Platform
Footplate Options
Adaptive Platform Spacers (2", 4", 6")
Wear Pads
Position Plates
Axle
Quick Release Steel
Quad Quick Release
Axle Plate
Adjustable COG
Rear Wheel Type
20" Mag Wheel
22" Mag Wheel
24" Mag Wheel
20" Lite Spoke Wheel
22" Lite Spoke Wheel
24" Lite Spoke Wheel
25" Lite Spoke Wheel
26" Lite Spoke Wheel
22" Ultra Lightweight Spoke Wheel 2.0
24" Ultra Lightweight Spoke Wheel 2.0
25" Ultra Lightweight Spoke Wheel 2.0
22" Spinergy SPOX Black
24" Spinergy SPOX Black
25" Spinergy SPOX Black
26" Spinergy SPOX Black
22" Spinergy LX Black
24" Spinergy LX Black
25" Spinergy LX Black
26" Spinergy LX Black
24" Mountain
Rear Wheel Tire
Pneumatic
Pneumatic with Airless Insert
Full Poly
High-Pressure Clincher
Knobby V-TRAK
Schwalbe® Marathon Plus Evolution
Schwalbe® Speed Run
SHOX® Performance Poly
Mountain Tire
Handrims
Aluminum Anodized
Plastic Coated
Natural Fit - Standard Grip
Natural Fit - Super Grip
Natural Fit LT - Standard Grip
Natural Fit LT - Super Grip
Spinergy Flex Rim
Hub Lock
N/A
Suspension
4-Link Rear Suspension
Frog Legs Caster Suspension
Backrest Type
Folding Lock-Down Angle Adjustable
Non-Folding Angle-Adjustable
Depth Adjustable
Back Post Options
Integral Push Handles
Fold Down Push Handles
Telescoping
Backrest Options
Standard Towel Bar - 4" offset
Low Profile Towel Bar - 2" offset
Narrow Backrest Inset
Back Upholstery
Standard
Tension Adjustable Ballistic Nylon
Tension Adjustable 3DX Vented
J3
Military Service Patches
Marines
Army
Navy
Air Force
Coast Guard
Purple Heart
Armrests
Padded Swing-Away
Single Post Height Adjustable Standard
Single Post Height Adjustable Low
Arm Pads
Desk Length - Classic
Desk Length - Contour
Full Length - Classic
Full Length - Contour
Wheel Locks
Direct Mount
High Mount Push
High Mount Pull
Ergo Scissor
Compact
6" Extension Handle Pair
Seating
Standard Seat Sling
Ultra Seat Sling
Power Assist
Quickie Xtender™ with 4x Torque Multiplier and Pneumatic Wheels
Xtender Spare Nimh Power Pack
SPARE 24" Spoke Pneumatic Alum
SPARE 24" Spoke Pneumatic Plastic
Grade Aid
N/A
Anti-Tips
Rear Anti-tips
Side Guards
Plastic - Standard
Plastic - Low
Aluminum
Aluminum with Fender
Carbon Fiber
Side Guard Options
Frame color match for Aluminum or Aluminum with Fender
Positioning Belts
1.5" Auto Buckle
2" Aircraft Buckle
2" Padded Aircraft Buckle
Tray Tables
N/A
Accessories
Quickie Backpack
Zippie Backpack
Seat Pouch
Caddy
Clear Spoke Guard
Black Spoke Guard
Gel Cover Hanger/Frame
Gel Cover Swing-Away Armrest
Extra Leg Strap Black
Impact Guard Neoprene
Crutch Holder
Tool Kit
Frame Color Options
Aztec Gold
Bead Blast
Black
Black Cherry
Black Opal
Blue Opal
Candy Blue
Candy Purple
Candy Red
Electric Blue
Evergreen
Glossy White
Glow
Green Apple
Hot Sparkle Pink
Mauve Pink
Rootbeer
Sparkle Silver
Sunrise Orange
Titanium Color Paint
Yellow
Matte Black
Matte Black Cherry
Matte Electric Blue
Matte Evergreen
Matte Purple
Desert Camouflage
Mossy Oak Camouflage
Stars & Stripes
Zebra
Anodized Color Options
Black
Blue
Green
Purple
Red
Ti Grey
Our service area covers most of Southern California including Los Angeles and surrounding cities.
To see a full list of cities covered in our service area please click here.
Agoura Hills
Alhambra
Altadena
Arcadia
Arleta
Artesia
Avalon
Azusa
Baldwin Park
Bel Air
Bell
Bell Gardens
Bellflower
Beverly Hills
Bradbury
Brentwood
Burbank
Cahuenga Pass
Calabasas
Camarillo
Canoga Park
Carson
Cerritos
Chatsworth
Claremont
Commerce
Compton
Covina
Cudahy
Culver City
Diamond Bar
Downey
Duarte
Eagle Rock
El Monte
El Segundo
Encino
Gardena
Glendale
Glendora
Granada Hills
Hawaiian Gardens
Hawthorne
Hermosa Beach
Hidden Hills
Huntington Park
Industry
Inglewood
Irwindale
Kagel Canyon
La Canada
La Crescenta
La Habra Heights
La Mirada
La Puente
La Tuna Canyon
La Verne
Lake Balboa
Lake View Terrace
Lakewood
Lancaster
Lawndale
Lomita
Long Beach
Los Angeles
Lynwood
Malibu
Manhattan Beach
Marina Del Rey
Maywood
Mission Hills
Monrovia
Montebello
Monterey Park
Montrose
NoHo Arts District
North Hills
North Hollywood
Northridge
Norwalk
Oak Park
Olive View
Oxnard
Pacific Palisades
Pacoima
Palmdale
Palos Verdes
Panorama City
Paramount
Pasadena
Pico Rivera
Pomona
Porter Ranch
Redondo Beach
Reseda
Rolling Hills
Rosemead
San Dimas
San Fernando
San Gabriel
San Marino
Santa Barbara
Santa Clarita
Santa Fe Springs
Santa Monica
Sepulveda
Shadow Hills
Sherman Oaks
Sierra Madre
Signal Hill
Simi Valley
South El Monte
South Gate
South Pasadena
Stonehurst
Studio City
Sun Valley
Sunland
Sylmar
Tarzana
Temple City
Thousand Oaks
Toluca Lake
Toluca Woods
Topanga
Torrance
Tujunga
Valencia
Valley Glen
Valley Village
Van Nuys
Ventura
Vernon
Walnut
Warner Center
West Covina
West Hills
West Hollywood
West Toluca
Westlake Village
Westwood
Whittier
Winnetka
Woodland Hills