Sunrise Quickie Pulse Series Power Wheelchair
Sunrise Medical
(Model:
Pulse-Series)
What's Included

Sherman Oaks Medical's Return Policy
Free Fast Shipping
Free Batteries
Free Charger
5 Year Limited Warranty

| Weight | Weight Capacity | Turning Radius | Top Speed | Drive Range | Warranty |
| --- | --- | --- | --- | --- | --- |
| 235 lbs. | 300 lbs. | 18" | 6.0 mph | 13.5 Miles | 5 Year Limited |
Sunrise Quickie Pulse Series Power Wheelchair
Compact Design
The Quickie Pulse features one of the smallest footprints in its class at less than 34" in length and 24" in width. A mid-wheel drive base allows the Pulse to turn on a dime. The combination of a small footprint and mid-wheel drive performance allow you to maneuver around your indoor spaces with confidence and ease.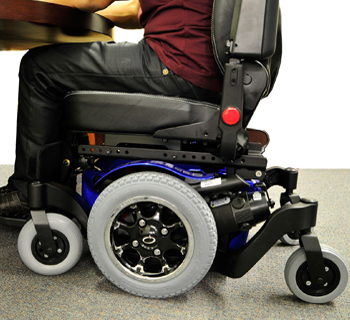 Lowest Seat Height
Let the Pulse make the most out of your environment with seat heights as low as 16" without tilt and 17" with tilt. Whether you're playing with your grandkids or eating dinner with your family, the Pulse gives you the freedom to do what you love.
Power Tilt and Elevate
The Pulse features optional power tilt and elevating and articulating legrests to position you for your best level of function. The 9" seat elevate option helps you meet your goals for independence by allowing you to interact at eye-level and access what you need at home, at work, and everywhere in between.
Rehab Seat Option
The Captain's Seat is a great option for a relaxed sitting position, but what if you're looking for something with more positioning flexibility? The Pulse's ASAP II Rehab Seat (Adjustable Seating and Positioning) keeps up with you as you change. With expansive adjustments and more backrests, armrests, legrests, and accessories, the ASAP II is our most versatile power seating option ever.
For information about Seating, Accessories, Customization, Demos, and other options, please feel free to give us a call (Contact Us) to speak with one of our professionally trained staff members. Sherman Oaks Medical can also have an evaluation performed for you by one of our highly experienced Assistive Technology Professionals (ATPs) who can help make sure you get the exact piece of medical equipment that fits your specific needs.
Technical Specifications
Drive Wheel Position
Mid Wheel Drive
HCPCS Code
Pulse 5 BC: K0848
Pulse 6 BC: K0848
Pulse 5 CC: K0849
Pulse 6 CC: K0849
Pulse 6 SC: K0856
User Weight Capacity
300 lbs.
Overall Chair Weight
No Power Seating, ASAP II Frame: 235 lbs.
No Power Seating, Captain's Seat: 250 lbs.
Single Power Seating Option (Tilt): 360 lbs.
Overall Chair Width
24"
Turning Radius
18"
Overall Chair Length
34" without footrests
Suspension
6-Wheel
Transit Approved
Yes
Frame and Feature Measurements
Seat Width Range
12" to 22"
Seat Depth Range
12" to 22"
Seat-To-Floor Height
No Power Seating, ASAP II Frame: 16.2" to 20.2"
No Power Seating, Captain's Seat: 16.2" to 18.2"
Single Power Seating Option (Tilt): 17.8" to 21.8"
Pre-Set Seat Frame Angle
0°, 3°, 6°
Back Height Range
14" to 26"
Options & Accessories
Maximum Speed
Pulse 5: 5.0 MPH
Pulse 6: 6.0 MPH
Frame/Shroud Color Options
Candy Apple Red
High Gloss Black
Candy Blue
Drive Wheel
Black/Chrome Wheel, Knobby Tire
Black Solid Wheel, Groove Tire
Caster Wheels
Front: 7" Pneumatic w/ Insert
Rear: 6" Solid
Transit Option
ISO Transit Package
WC-19 Transit Package (lap belt)
LED Light Package
N/A
Wheel Locks
N/A
Manual Conversion Kit
N/A
Ventilator Options
Fixed Vent Tray (Pulmonetic LTV Models)
Batteries
22NF Flat Top with Straps
Battery Charger
8A Dual Mode (Compact) CTE
Drive Control Options
Non-expandable VR2 controller 90Amp
Non-expandable VR2 controller 70Amp
Expandable R-net Controller
Joysticks
VR2 Joystick
R-net Standard LED Joystick
R-net Joystick with Stereo Jacks and Monochrome Display
R-net Joystick with Toggle, Speed Potentiometer, Stereo Jacks and Color Display
Joystick Mount
Fixed
Swing-Away
Joystick Handle
Ball
Foam Ball
T-handle
Goalpost
R-net OMNI and Output Options
R-net Input Control Module and Display with Built-in Infrared and Armrest Mount
R-net Output Module (ECM)
R-net Bluetooth Mouse-over
OMNI Mount
Swing-Away (right or left side)
Switch Inputs for Joysticks or OMNI
Stereo to 2 Mono Splitter
Ribbon
Buddy Button
Disc
Wobble
Micro Light
Egg - Black
Dual Toggle Switch Only
4-way Toggle Switch with 5th Button DB9 Connector
Switch Mount Bracket
Single
Dual Toggle
4-way Toggle
Specialty Driver Control Options
Quickie Sip n' Puff System
ASL Head Array Package (Adult)
ASL Head Array Package (Pediatric)
Switch-It Head Array Package (Adult)
Switch-It Head Array Package (Pediatric)
ASL Proportional Mini Joystick Chin/Lip Control Package
ASL Proportional Mini Joystick Midline with Gatlin Package
Quickie Proportional Chin Control Package
Attendant Control
For VR2 (Mounted right or left)
For R-net (Mounted right or left)
Electronics Programmers
VR2 Hand Held Programmer (HHP)
R-net PC Programmer with Dongle
DTT VR2 and R-net Cables
Seat Frame
ASAP II
Captain Seat with Semi-Recline Back
Powered Seating Options
Quickie SPOT 50° CG Tilt
9" Lift
Powered Seating Control Method
Switch Control 1 Actuator with Dual Toggle and Mount
Switch Control 1 Actuator with Buddy Button and Mount
Switch Control 2-3 Actuators with 4-way Toggle Switch and Mount
Thru Drive 1 Actuator
Thru Drive 2+ Actuators
Backrest Frame Type
Angle Adjustable (ASAP II)
Manual Recline 40°
Angle Adjustable Backrest Options
Non-folding
Folding
Back Cane Angle
Straight
8° Bend
Towel Bar Depth
Shallow
Deep (extends 4" from back canes)
Back Cane Height
Fixed Low: 15.5"
Fixed Medium: 17.5"
Fixed Tall: 19.5"
Adjustable Low: 14" - 18"
Adjustable High: 20" - 26"
Backrest Type
Upholstery
Tension Adjustable Upholstery Ballistic Nylon
Tension Adjustable Upholstery 3DX Vented
SPOT Curved
JAY SPO Posterior Positioning
ART SPO Posterior Positioning
J3
Head Support Options
Whitmyer Linx Headrest Small with 8" Plush Support
Whitmyer Linx Headrest Large with 10" Plush Support
Lateral Thoracic Support
Swing-Away 4"x 5" (right or left)
Swing-Away 4"x 6" (right or left)
Thigh Support
SPOT Long Thigh Support with Removable Mount (right or left)
Knee Adductor Supports
Swing-Away Short or Long Arm Mounts (right or left)
Small or Large Pad Sizes
Chest Strap
Padded Chest Strap
Armrests
Dual Post
Dual Post Flip Back Height Adjustable
Cantilever
Single Post
Arm Pads
Desk Length Waterfall
Full Length Waterfall
Desk Length Standard
Full Length Standard
Full Length Cantilever
Desk Length Cantilever
Legrests
65° Swing-Away
70° Swing-Away
75° Swing-Away
90° Swing-Away
Manual ELR Swing-Away
Power Centermount ELR with Articulation
Swing-Away Power ELR with Articulation
Fixed Centermount
Legrest Extensions
Short
Medium
Long
High Mount
Footplates
Composite with Heel Loop
Adult Angle Adjustable with Heel Loop
Kids Angle Adjustable with Leg strap
Aluminum
One-piece Angle Adjustable
Centermount Single
Centermount High Mount
Tray Tables
Small Tuffak 13-14
Medium Tuffak 15-17
Large Tuffak 18-20
Backpack
Black Utility
Black/Charcoal Kids
Positioning Belts
Auto Style Buckle
2" Aircraft Buckle
2" Aircraft Padded Buckle
Mounting Accessories
Cane/Crutch Holder
O2 Holder
Walker Holder
Miscellaneous
N/A
SUNRISE LIMITED WARRANTY
A. FOR FIVE (5) YEARS
Sunrise warrants the frame of this wheelchair against defects in materials and workmanship for five years from date of first consumer purchase.
B. FOR ONE (1) YEAR
We warrant all Sunrise-made parts and components of this wheelchair against defects in materials and workmanship for one year from the date of first consumer purchase.
C. FOR ONE (1) YEAR
We warrant all motors, gearboxes, batteries, and electronic components of this wheelchair against defects for one year from the date of first consumer purchase.
D. LIMITATIONS
We do not warrant:

Tires and tubes, upholstery, pads and push-handle grips.
Damage from neglect, accident, misuse, or from improper installation or repair.
Products modified without Sunrise Medicals express written consent.
Damage from exceeding the weight limit.

This warranty is VOID if the original chair serial number tag is removed or altered.
This warranty applies in the USA only. Check with your supplier to find out if international warranties apply.
This warranty is not transferable and only applies to the first consumer purchase of this wheelchair through an authorized Sunrise Medical dealer.
E. WHAT WE WILL DO
Our sole liability is to repair or replace covered parts.This is the exclusive remedy for consequential damages.
F. WHAT YOU MUST DO
Obtain from us, while this warranty is in effect, prior approval for return or repair of covered parts.
Return the wheelchair or part(s), freight pre-paid, to Sunrise Mobility Products Division at: 2842 Business Park Avenue, Fresno, CA 93727-1328.
Pay the cost of labor to repair, remove or install parts
G. NOTICE TO CONSUMER
If allowed by law, this warranty is in place of any other warranty (written or oral, express or implied, including a warranty of merchantability, or fitness for a particular purpose).
2. This warranty gives you certain legal rights.You may also have other rights that vary from state to state.
Our service area covers most of Southern California including Los Angeles and surrounding cities.
To see a full list of cities covered in our service area please click here.
Agoura Hills
Alhambra
Altadena
Arcadia
Arleta
Artesia
Avalon
Azusa
Baldwin Park
Bel Air
Bell
Bell Gardens
Bellflower
Beverly Hills
Bradbury
Brentwood
Burbank
Cahuenga Pass
Calabasas
Camarillo
Canoga Park
Carson
Cerritos
Chatsworth
Claremont
Commerce
Compton
Covina
Cudahy
Culver City
Diamond Bar
Downey
Duarte
Eagle Rock
El Monte
El Segundo
Encino
Gardena
Glendale
Glendora
Granada Hills
Hawaiian Gardens
Hawthorne
Hermosa Beach
Hidden Hills
Huntington Park
Industry
Inglewood
Irwindale
Kagel Canyon
La Canada
La Crescenta
La Habra Heights
La Mirada
La Puente
La Tuna Canyon
La Verne
Lake Balboa
Lake View Terrace
Lakewood
Lancaster
Lawndale
Lomita
Long Beach
Los Angeles
Lynwood
Malibu
Manhattan Beach
Marina Del Rey
Maywood
Mission Hills
Monrovia
Montebello
Monterey Park
Montrose
NoHo Arts District
North Hills
North Hollywood
Northridge
Norwalk
Oak Park
Olive View
Oxnard
Pacific Palisades
Pacoima
Palmdale
Palos Verdes
Panorama City
Paramount
Pasadena
Pico Rivera
Pomona
Porter Ranch
Redondo Beach
Reseda
Rolling Hills
Rosemead
San Dimas
San Fernando
San Gabriel
San Marino
Santa Barbara
Santa Clarita
Santa Fe Springs
Santa Monica
Sepulveda
Shadow Hills
Sherman Oaks
Sierra Madre
Signal Hill
Simi Valley
South El Monte
South Gate
South Pasadena
Stonehurst
Studio City
Sun Valley
Sunland
Sylmar
Tarzana
Temple City
Thousand Oaks
Toluca Lake
Toluca Woods
Topanga
Torrance
Tujunga
Valencia
Valley Glen
Valley Village
Van Nuys
Ventura
Vernon
Walnut
Warner Center
West Covina
West Hills
West Hollywood
West Toluca
Westlake Village
Westwood
Whittier
Winnetka
Woodland Hills